Venue
The conference room is located in Desmarais Hall (55 Laurier Avenue East), Room 12102 (12th floor).
Schedule
June 5
9:00AM-12:00 noon: Tutorial 1: Learning by Pruning and the Hunt for Lottery Tickets, given by Dimitris Papailiopoulos (University of Wisconsin-Madison, Online)
2:00PM-5:00PM: Tutorial 2: A tutorial on Optimal Transport Theory, given by Augusto Gerolin (University of Ottawa)
7:00 PM-10:30PM: Reception on Ottawa River Cruise
June 6
8:50AM-9:00AM: Welcome
9:00AM-10:00AM: Keynote Lecture by Muriel Medard (MIT)
10:10AM-11:10AM: Technical Session: Information Theory
11:20AM-12:20PM: Technical Session: Coding Theory
2:00PM-3:00PM: Keynote lecture by Michelle Effros (CalTech, Online)
3:10PM-4:10PM: Technical session: Compression
4:20PM-5:20PM: Technical Session: Security
6:00PM-7:30PM: Posters (light food/beverage provided)
June 7
9:00AM-10:00AM: Keynote lecture by Wei Yu (Toronto)
10:10AM-11:40PM: Invited session on Communication and Coding on Nanonetworking and Biology
1:30PM-2:30PM: Keynote lecture by Yi Ma (Berkeley)
2:40PM-4:50PM: Invited session on Data Science and Information Theory
5:00PM-6:20PM: CSIT annual meeting
6:40PM-9:30PM: Banquet at Courtyard Restaurant (Byward Market)
June 8
9:00AM-10:20AM: Technical Session: Communication Systems
10:30AM-11:50AM: Technical Session: Wireless Communications
More detailed schedule is given HERE, and join the SLACK Workspace for latest updates and announcements.
Reception
The reception of the workshop will be held on a cruise tour on the scenic Ottawa River on the evening of June 5th. You will have the opportunity to see the beautiful landscape of Ottawa, and relax and enjoy a nice cold beverage and light refreshments on the large upper deck. The cruise offers a spectacular view of the city and allows you to see the river as it was used long ago: as a highway to transport resources. You will also see the natural beauty of the region that captured the imagination of the first European explorer Samuel de Champlain.
We look forward to seeing you all there!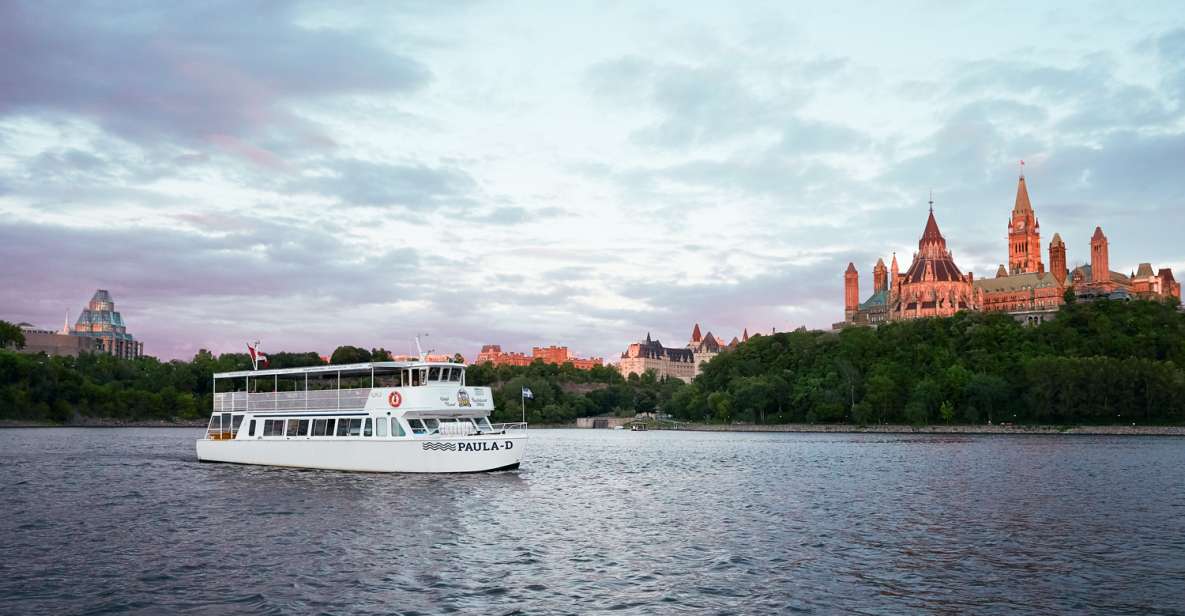 To participate in the cruise tour, make sure that you have picked up your name badge at the conference registration desk and your name badge will be your ticket to the cruise; note that the registration desk closes at 5:30PM on June 5. There will be shuttle buses waiting at Séraphin-Marion Private (see the map below) to take you to the boat; the location of the shuttle buses is about 3 minute walk from the conference building. The shuttle buses are scheduled to leave at 7PM, so please catch the shuttle by 6:55PM.
Light food will be provided on the cruise, but it is not meant to replace dinner. You are advised to have dinner prior to the cruise tour.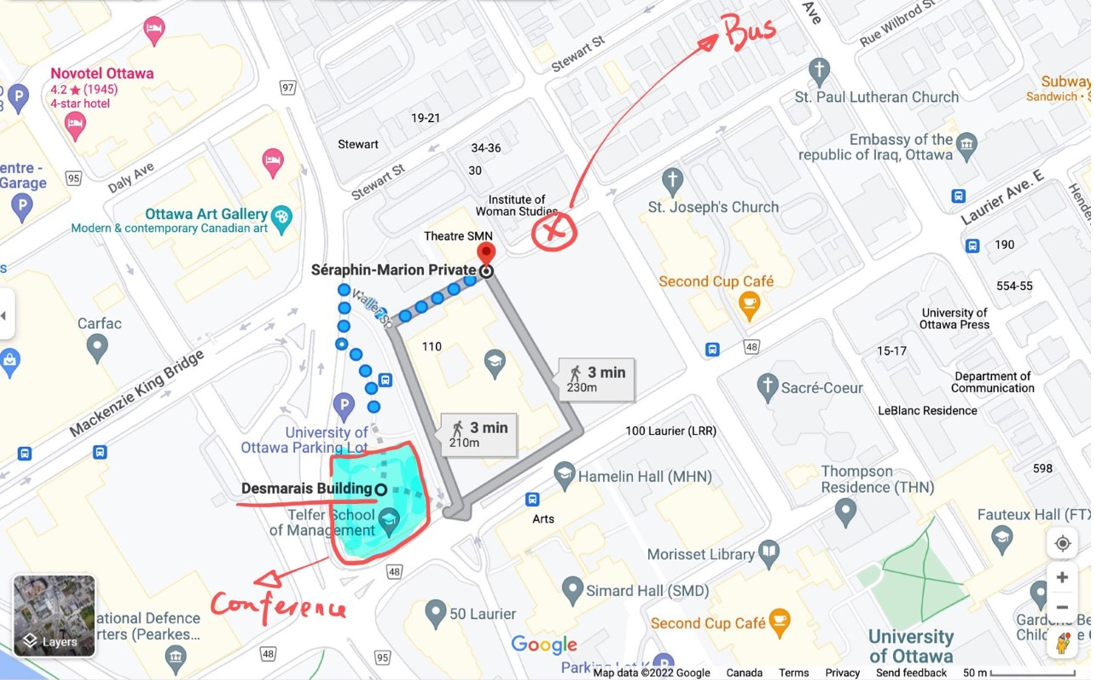 Banquet
The conference banquet will be held on the evening of June 7 at the Courtyard Restaurant (21 George St) in the Byward Market, the center of downtown Ottawa. It is about 10 minute walk from the conference building. The banquet begins with a cocktail reception, starting at 6:40PM. Your name badge will also serve as your banquet ticket.