Travel
If you need an invitation letter to obtain a visa to enter Canada, please contact Ziqiao Wang (zwang286@uottawa.ca).
On-campus Accommodations
The campus of the University of Ottawa is located in downtown Ottawa, where there are many hotels near campus. The workshop has held in a block of 35 rooms in a student residence on campus for the workshop participants. Each of these rooms is a two-bedroom unit. Each unit contains two bedrooms, a shared bathroom and a study area. See the companion floor plan. A unit is ideal for two persons to share, but any number of guests from 1 to 4 are allowed.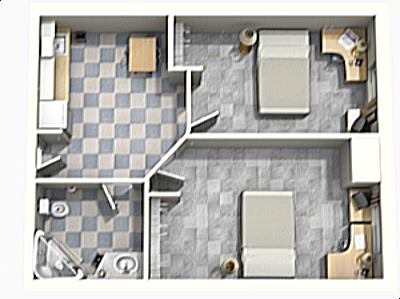 How to Reserve
Enter the Promotional Code: CWIT2022
Select the dates: between June 4 and 8, 2022
Rate: $131 + tax for a two-bedroom suite
Please include additional guest names at the time of the reservation.
Note that the Promotional Code expires on May 4 , 2022. After these dates, the reserved rooms may not be available and the standard rate will apply. Reservation before May 4 will be guaranteed on a first-come-first-serve basis. Reserve your room before they run out! For additional questions regarding these rooms, you may contact the toll-free number 1-888-564-4545 to speak the booking agent.
Consider Sharing a Room but Needing Roommate
If you consider sharing a room but need a roommate, you can try joining the Slack Workspace created for the workshop and posting a message to see if there are other people looking to share rooms in the conference. In your message, you may want to introduce yourself adequately and specify what kind of roommate you are looking for.
On-Campus Parking
Parking is available on campus at an additional cost, please see guest parking available on campus by visiting this website. The City of Ottawa also operates several parking lots. Visit their website to get a list of the parking lots municipally operated in Ottawa.